Metal stamping
This is the first process in Takada's manufacturing. We produce automotive body parts, construction and industrial machineries parts, complying with the company's policy of safety, quality and punctuality in delivering the best products to customers.
Kanazawa Factory: 14 presses from 350t to 1500t
Izumizaki Factory: 15 presses from 500t to 2500t
Laser
Small quantity orders are processed by 2D and 3D laser before and after stamping. For steel plate processing, our laser cutting machine is capable of cutting large plates of 1,524mm x3,048mm.
2D laser cutting machine x 2 (Kanazawa Factory x 1, Izumizaki Factory x 1)
3D laser cutting machine x 5 (Kanazawa Factory x 4, Honmoku Factory x 1)
Welding
The cabin is manufactured by automatic robot welding.

Skilled operator welds areas where it is difficult for robots.
Bending pipe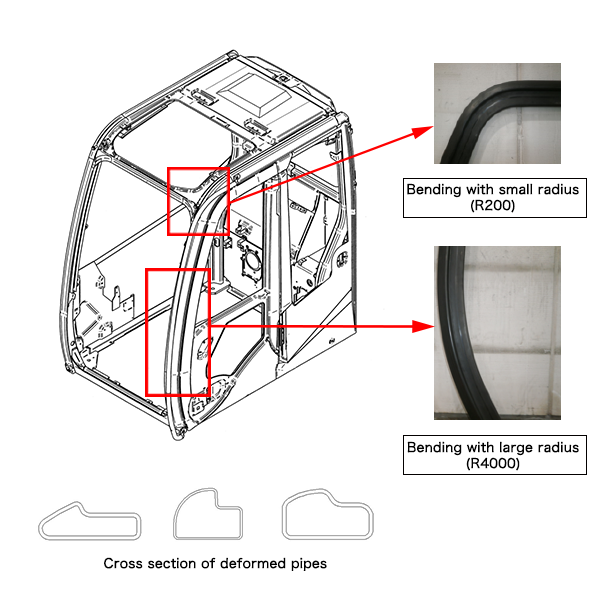 The elimination of the process of connection and welding, by bending a single deformed steel pipe with multiple large and small radii, realized higher rigidity and quality.
Painting
Processes of pretreatment electrodeposition (ED), sealing and coloring. Total customization of color by speedy painting robots is possible to meet various demands and requirements of the customers.
Outfitting
We are producing heavy truck cabs including the assembly of equipment.

We are producing construction machinery cabins in mixed or single model line according to the production volume.

We outfit and fully customize customer's vehicles by order.